MWC Barcelona, Spain, 28th February, 2023
Japanese Operator KDDI joins as the first collaborating partner.
Mawari Corp., the leader in cloud rendering and XR streaming, is thrilled to announce that Japanese telecommunications giant KDDI Corporation will join the Mawari Network Testnet in Japan. They will be collaborating by providing edge rendering, validating, and storage nodes, in addition to the last-mile 5G network.
"KDDI is pleased to continue our ongoing partnership with Mawari and provide our Edge Computing and 5G network resources for the Mawari Network Testnet", says Katsuhiro Kozuki, Head of XR Development Department at KDDI Corporation. "Our pioneering work together with Mawari over the past years to deploy consumer-grade XR experiences now continues at a new, more advanced level to create new life experiences in the Beyond 5G and 6G era."
This GSMA Foundry Project will showcase the world's first Web3, decentralized XR content delivery platform that scales real-time 3D rendering and streaming to XR wearable devices via 5G.
"This GSMA Foundry project demonstrates the role operators can play in the decentralised delivery of Web3 services to mobile devices and wearables. This is critical for delivering high quality 3D content on a sustainable basis," says Alex Sinclair, Chief Technology Officer at GSMA. "The project will also explore the benefits brought by the GSMA Open Gateway API for Quality on Demand and how it exposes operator network capabilities to deliver great experiences to users."
Over the past 6 years, Mawari has developed proven and widely demonstrated cutting-edge, proprietary technologies including patent-pending Split Rendering frameworks and 3D streaming CODECs of the Mawari Engine which will power the Mawari Network Testnet.
"The trillion-dollar opportunity represented by XR will not be realized until consumer-grade content can be efficiently streamed simultaneously to large numbers of XR wearable devices. Similarly, without the killer use-case, mainstream adoption cannot happen. The Mawari Network opens the doors for creative developers to push creativity to the limit." says Founder and CEO Luis Oscar Ramirez Solorzano.
In 2023, KDDI and Mawari will conduct use case exploration in Japan in the areas of consumer and entertainment verticals using XR wearables in collaboration with Qualcomm Technologies, Inc . and the Snapdragon Spaces™ XR Developer Platform. The most compelling examples will be showcased in the future.
"The Qualcomm Technologies and Mawari collaboration, utilizing the Snapdragon Spaces platform, will enable the technology for developers to raise the bar in augmented reality experiences in the XR, Web3, and metaverse era," says Brian Vogelsang, Senior Director of XR Product Management, Qualcomm Technologies, Inc. "We are looking forward to working with Mawari and other Snapdragon Spaces ecosystem members to accelerate the pace of innovation in headworn AR."
As a result of this GSMA Foundry initiative, other operators from around the world will have the opportunity to witness and learn from this pioneering work in XR delivery and 5G monetization.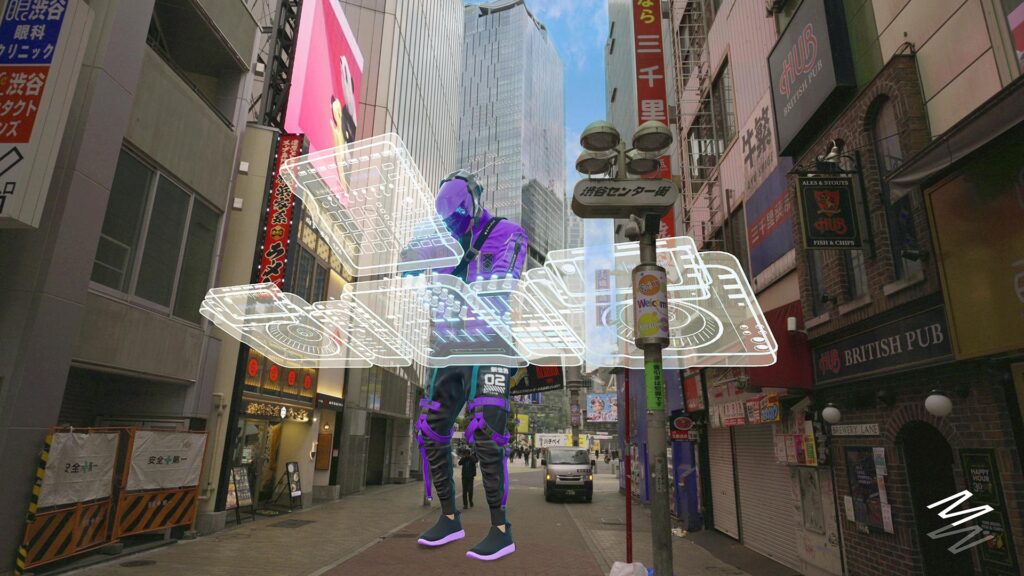 About KDDI Corporation
KDDI aims to provide new experience value by expanding and coordinating various life design services, including those related to commerce, finance, energy, entertainment, education, and healthcare, while focusing on conventional telecommunications services, such as those related to smartphones, cell phones, FTTH, and CATV. We dynamically provide services attuned to customer needs and market conditions through a multi-brand strategy that encompasses "au," "UQ mobile," and "povo."
About Mawari Corp.
Mawari is a pioneer in Cloud Rendering and Streaming technologies. Our core technology has been validated in the market through repeated success in the XR industry with over 40+ deployments to date worldwide. The Mawari Network is a decentralized 3D & XR content delivery platform that breaks the bottlenecks of infrastructure supply for real-time rendering, and the lack of local compute power on XR Devices. Mawari does this by orchestrating a decentralized network of GPU-powered nodes that run the Mawari Engine, a proprietary technology stack that allows to render interactive 3D content and stream it efficiently in real-time to mobile XR devices at scale.
Snapdragon and Snapdragon Spaces are trademarks or registered trademarks of Qualcomm Incorporated. Snapdragon Spaces is a product of Qualcomm Technologies, Inc. and/or its subsidiaries.

Contact
Chief Operating Officer
Fred Speckeen
Mawari
fred@mawari.io