Dubai, United Arab Emirates, 9th December, 2022, Chainwire
Revolutionary Artificial Intelligence trading and portfolio management company, Tafabot, has partnered with China's leading Crypto exchange company, Huobi, to provide automated trades to crypto enthusiasts.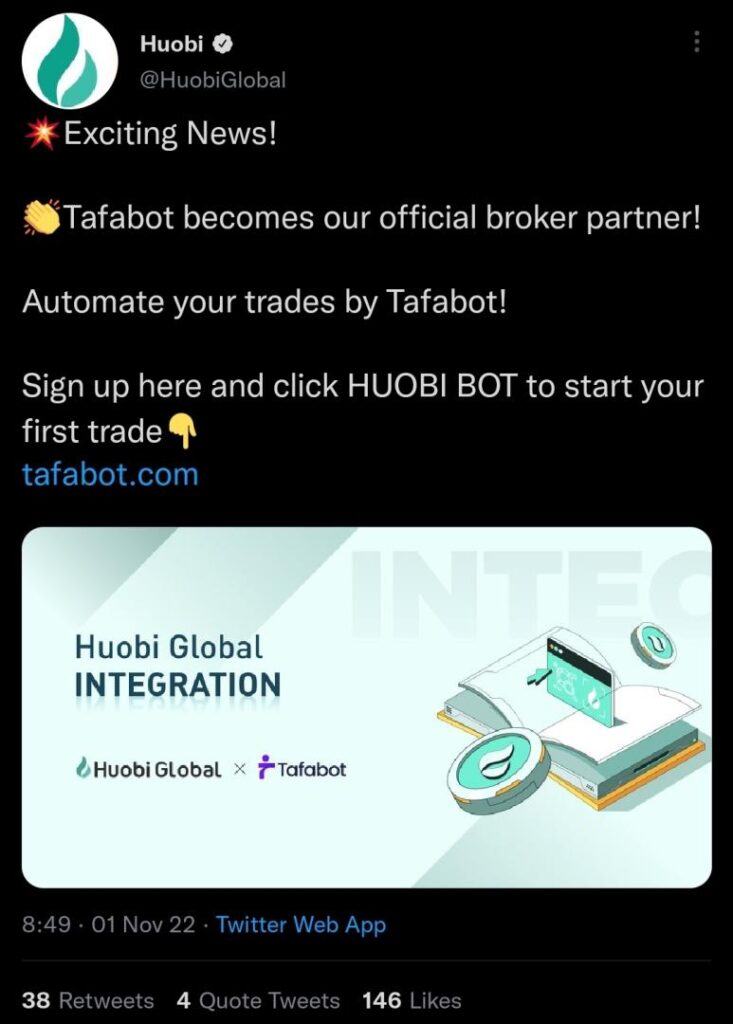 What started as an idea during the COVID19 lockdown in 2020, is today one of the leading solutions in the crypto industry today. Having been in the beta phase for nearly 2 years, Tafabot finally went live on September 12th 2022 on the iOS and Google App Stores.
The automated non-custodial trading bot has its operational headquarters in Dubai, United Arab Emirates, With across-border utility to serve millions of crypto professionals, newbies, and enthusiasts, Tafabot is the world's pioneer bot system enabled for futures, spot and arbitrage markets combined. Both Huobi and Tafabot view their partnership as a strategic step towards improving the easy adoption of crypto and blockchain knowledge across communities around the world.
Samuel Benedict and Dr. OVO (Otubo Victor), co-founders of Tafabot, said, "our primary motto, especially for now, is excellence and speed. We are glad that in just 50 days of going live, we have already closed a strategic partnership with one of the largest players in the industry. For us, it's reassuring that what we are doing is really having a noticeable impact."
Samuel Benedict, Tafabot's CTO, expressed confidence in the ability of the partnership to unlock rapid inclusion and economic opportunities for all. "We didn't like the traditional trading methods that existed out there. People had to constantly be on screens all day just to trade. Of course, this has discouraged a lot of interested persons from really getting their hands on crypto. And yes, there are also some other bots that came before us, but just like the exchanges, their processes are complex and do not bring in any simplicity. This was part of what inspired us to build an easy to use, reliable software that both newbies and pros can enjoy. We did it in the background for 2 years and once the power of Tafabot was realized, we opened it to profit everyone."
In further describing the partnership, the co-founders stated among other things that more partnership conversations are currently ongoing and will be announced in coming months. "Currently we are compatible with all major exchanges in the industry, however this partnership offers more. Our users are easily identified by Houbi for exclusive benefits including reduction on trading fees and much more. We are in talks with some other exchanges that we are plugged into for similar partnerships and 2023 will be a big year for more announcements.", Benefit and Victor added.
With 30 of the world's most reputable exchanges already plugged into the Tafabot algorithm, the team believes this is one of the next big things in crypto. Tafabot provides what is today, the world's fastest automated trading tool, with a bot speed of up to 5 seconds. It is also one of the most diversified bot systems, with bot options developed for optimal performance in trading bullish, bearish and sideways market conditions.
It doesn't matter wheather users are beginners who wants to dive into the world of crypto trading or professional traders, Tafabot's automated systems provide every tool they need at every level. The safety of user's funds is one less thing to worry about also, as the capital and trade profits are always with them, in the user's exchange and never with Tafabot. This way users have all the control they need, anyday and any time.
Some of the bots services offered by Tafabot include:
1. The Martingale Bots: Available for both Spot and Futures Markets. Martingale bots allow users to create multiple entries, to let them benefit in dynamic market conditions.
2. DCA Bots: The Dollar-Cost-Average bot helps users divide their investment into smaller pieces and buys assets at various points over time and at different prices, to realize a better average price for their position, as well as drastically reduce risks in the case of volatility. It is available for spot and Futures trading.
3. Custom Bot: This allows users to build their own intelligence into the Tafa ecosystem. With the custom bots, they can connect their self-created bot(s) to TradingView indicators and still automate all of their trades.
4. Grid Bots: The Tafabot Grid Trading realizes profits from the ups and downs of the market, by trading within a price range and continues to execute orders and take profit as long as the market is within that range. It is available in spot and futures.
5. SIB Bot: Smart invest Bot is a specialized DCA bot for spot market only, with extra features for building long term portfolio, by buying assets daily in a way that user's average entry price mimics the current price of the market.
6. Arbitrage Bot: With earning capacity of 15 to 40% yearly, the Tafa arbitrage bot is a market neutral strategy that exploits market variations (price gaps and funding fees) between spot and futures market. It's a market-neutral strategy in which the risk involved is extremely low.
7. Mirror Trading Bot: With this intelligence, users can simply copy successful traders on Tafabot and leverage on their efforts and configurations to earn daily.
8. Crypto Signal Bots: Allows users to automatically trade signals received from their favorite signal providers 24/7. Plus, Signal Providers are allowed to create accounts with Tafabot and undergo approval processes.
Apart from enabling newbie and advanced traders set up bots on all major exchanges for their spot, futures, and arbitrage trading, Tafabot was also built to house features like:
Wallets: A free to use USDT wallet, with zero transaction fees when sending peer to peer within the Tafa ecosystem. This is available to all users with an active license.
Game Predict & Win: Lets users predict the price of bitcoin within time frames and win big.
Affiliate Program: Refer friends to Tafa and earn up to 30% of direct and indirect referral bonus on license fees and unlimited trading fees from up to 15 generations of downlines.
About Tafabot
Tafabot brings well over 30 combined years of Finance, Investing and Trading experience into the crypto space. The platform is portrayed to be transparent, secure, and easy to understand. With this ingenuity, the era of chasing close friends and family or even strangers considered to be experts, to trade on one's behalf may be finally behind us.
Contact
Tafabot Team
Tafabot Software LLC
bdd@tafabot.com