Despite the recent departure of key executives, Binance, one of the world's largest cryptocurrency exchanges, witnessed a substantial inflow of nearly $2 billion in the last 24 hours.
This influx comes in the midst of regulatory uncertainties and speculations surrounding the exchange. Let's delve into the details and explore the factors that contributed to this significant inflow.
The inflow can be attributed to a remarkable surge in Binance's TrueUSD (TUSD) balance during the same period.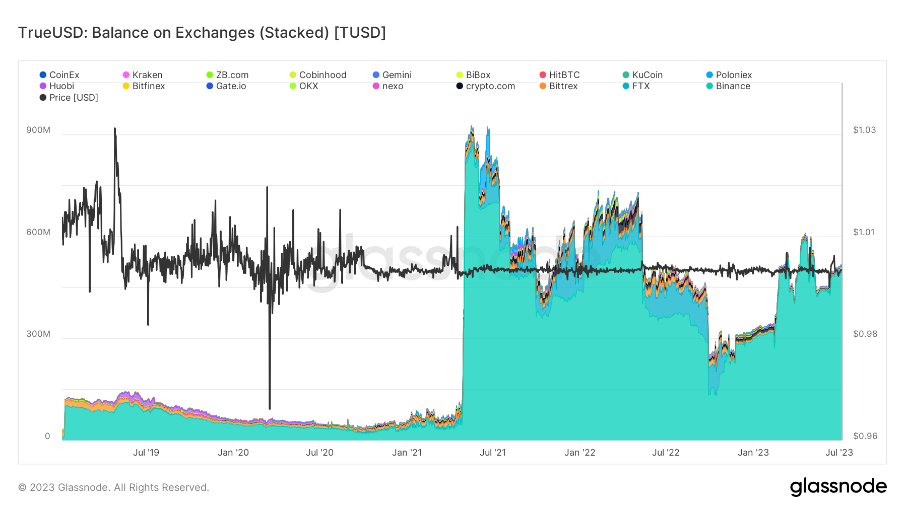 According to DeFillama data, TUSD's balance on Binance surged from less than $500 million on June 6 to a staggering $2.65 billion. This increase indicates a shift in focus from Binance USD (BUSD) to TUSD, as the exchange promotes TUSD as a viable successor to the embattled stablecoin.
While TUSD's growing popularity on Binance has led to a surge in inflows, it has also faced increased scrutiny due to alleged ties to Justin Sun and its exposure to the insolvent crypto custodian, Prime Trust. However, Binance has not yet responded to these allegations.
In response to the departure of key executives, Binance CEO Changpeng 'CZ' Zhao dismissed the rumors and stated that the reasons attached to their exits were "completely wrong."
Both Patrick Hillmann, Binance's chief strategy officer, and Steven Christie, the exchange's senior vice president for compliance, confirmed their departure but emphasized that it was on good terms.
CZ described the outcry surrounding these departures as FUD (fear, uncertainty, and doubt) and assured users that the platform remains committed to protecting its users.